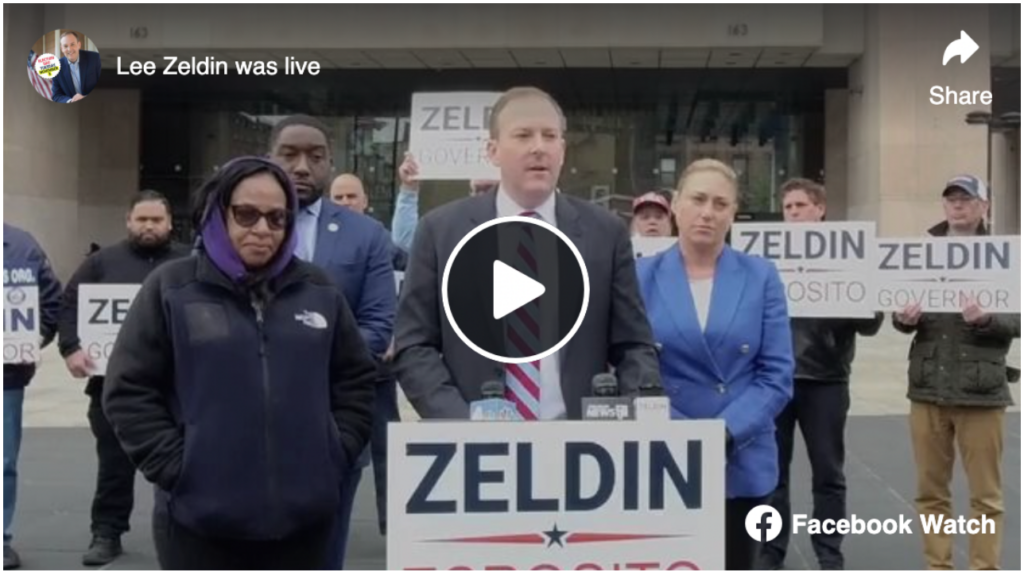 Watch the press conference here.
NEW YORK – Today, Congressman Lee Zeldin (R, NY-1), the Republican Party and Conservative Party Nominee for Governor, joined local Harlem residents to announce his 5 Pillar "Pathways Up" Plan outside of Adam Clayton Powell Jr, State Office Building.
Here are some of the many highlights of Congressman Zeldin's 5 Pillar "Pathways Up" Plan:
First Pillar – Grade School Education 
Congressman Zeldin said, "Every child deserves access to a quality education regardless of race, ethnicity, wealth or zip code. We must improve the quality of education in our schools, lift the cap on charter schools, promote school choice for parents, and make a high school diploma more valuable than just a ticket to college. It must become a ticket to a good paying job. This can be accomplished through more technical education in schools, hands on equipment, and networking with trades." 
Second Pillar – Upward Economic Mobility
Congressman Zeldin said, "Earning a good paying job goes hand in hand with the American Dream for so many. In addition to my overall economic plan for New York that would improve the business climate in this state and help create more good paying jobs, there are two proposals to highlight that are key elements specific to my 'Pathways Up' plan:
"First, through the ultimate public-private partnership, I am proposing the Hason Correa Small Business Incubator Initiative with the first incubator to be launched right here in Harlem. 
"Second, I am proposing the 'Pathways Up' Pipeline to Employment. We must create new pipelines between educational settings and employers. There is currently no statewide link between SUNY/CUNY/etc and private companies other than just some one off options. I am proposing the creation of coordinated, specialized technical programs where students work with New York employers to train skilled workers in technical industries. The state must do a much better job to ensure students are learning in demand skills and are connecting more directly with employers in their desired field as part of their education. There is a big disconnect where graduates are being left with a degree, but no direction and connection, leaving these graduates to search out of state for opportunity."
Third Pillar – Housing
"We need more affordable housing. New York's development has sorely lagged its needs, with fewer permits for housing units issued per resident than nearly every other large city. The time has come for the state to help fast track affordable housing construction. Projects need to be expedited and prioritized. There's also way too many lawsuits unnecessarily slowing down development. Bonds need to be submitted when filing these Article 78 cases.
"The New York City Housing Authority needs to be running effectively and efficiently. The time has come for the state to audit NYCHA. Landlords and tenants alike have expressed significant dissatisfaction with the agency and have long complained about this organization hemorrhaging tax dollars and not providing quality services to New Yorkers. 
"We must end homelessness in New York. Every New Yorker should have access to a housing option that puts a roof over their head. Our goal though shouldn't be to just get everyone into shelters and call that a success. Our goal must be to get New Yorkers out of shelters and into more permanent, independent living situations," said Congressman Zeldin.
Fourth Pillar – Mental Health and Addiction Challenges
Congressman Zeldin said, "We witness our state and country's mental health crisis on our streets each and every day, and it is intertwined with so many issues – including homelessness, crime and more. We must strengthen access to mental health services, fully fund them and ensure these services meet New Yorkers struggling with mental illness where they are. If those struggling with mental health challenges, addiction and more come into contact with our criminal justice system, they should be placed in an appropriate alternative court – for example drug court – where they can receive the services and care they need. Among many other important initiatives, we must also make Kendra's Law permanent and reform OASAS."
Fifth Pillar – Safety
"Everyone agrees that someone who has no criminal history, is arrested for a non violent crime and isn't a flight risk or danger shouldn't be held because they can't afford $100 worth of bail," said Congressman Zeldin. "However, when two Mexican cartel drug smugglers are busted with $1.2 million worth of crystal meth, they shouldn't be getting released on cashless bail, but that's exactly what happened this summer in Inwood. We must overhaul cashless bail to hold these types of criminals accountable. District Attorneys must enforce the law. Our law enforcement must have the tools to keep people safe. No matter the zip code, New Yorkers deserve a sense of security and relief – something many haven't felt in a long time. You can read more about my Secure Our Streets Plan for New York at ZeldinForNewYork.Com/SecureOurStreets."
###
About Lee Zeldin
Lee Zeldin was born and raised on Long Island. He grew up in Suffolk County and graduated from William Floyd High School in Mastic Beach, where his identical twin daughters attend school today. He earned his bachelor's degree from the State University of New York at Albany and then his law degree from Albany Law School, becoming New York's youngest attorney at the time at the age of 23.
Lee spent four years on Active Duty with the U.S. Army after completing ROTC and served in different capacities, including as a Military Intelligence Officer, Prosecutor, and Military Magistrate. In the summer of 2006, while assigned to the Army's elite 82nd Airborne Division, Lee deployed to Iraq with an infantry battalion of fellow paratroopers in support of Operation Iraqi Freedom.
In 2007, Lee returned to Suffolk County with his family. It was at this time that Lee transitioned from Active Duty to the Army Reserve, where he currently serves with the rank of Lieutenant Colonel.
In 2008, Lee established a successful law practice in Smithtown, NY. Elected to the New York State Senate two years later, in 2010, Lee's been working hard every day since to keep the promises he made to the hard-working families he represents.
In the State Senate, Lee:
Led the successful effort to repeal the MTA Payroll Tax for 80 percent of employers, a job killing tax that was hurting small businesses. 

Cosponsored the nation's strongest property tax cap, which became law.

Reduced middle-income tax rates in New York to the lowest level in 60 years.

Secured the repeal of the Saltwater Fishing License Fee.

Created the PFC Joseph Dwyer Veteran Peer Support Program to help our returning veterans cope with Post Traumatic Stress Disorder (PTSD) and Traumatic Brain Injury (TBI). 

Authored the law to protect our fallen veterans and their families from protests at military burials. 
Lee was then elected to the United States Congress in 2014, representing New York's First Congressional District, and has now won seven consecutive races since 2010 in purple NYC suburban districts, unseating two Democrat incumbents along the way. In Congress, Lee quickly became a leading voice in America on top local, domestic and foreign policy issues: 
Combating and defeating MS-13 on Long Island, leading the charge in New York and nationally against cashless bail, opposing all efforts to defund, dismantle or abolish police, and providing law enforcement the resources they need to fight gang violence and other crimes in our communities, including bulletproof vests.

Securing the repeal of many harmful, job killing regulations, with the Economic Growth, Regulatory Relief, and Consumer Protection Act, and many other initiatives, to improve our business climate and grow our economy. 

Leading the charge to end all COVID mandates. 

Saving Plum Island, by securing the repeal of a 2008 federal law requiring the island to be sold off to the highest bidder. 

Delivering a $1.5 billion boost in border security resources, helping to choke off the flow of illegal migration across our borders. 

Introducing and passing into law his Adult Day Health Care legislation for disabled veterans and opening a new health care clinic for East End veterans.

Delivering the Electron Ion Collider "discovery machine" to Brookhaven National Lab that will enable advancements in national security, medical and cancer research, astrophysics, and more and create an extensive number of jobs. 

Advancing his law enforcement bill of rights, which would help ensure that our great law enforcement officers and the people they serve are protected.

Championing the expansion of the Dwyer Program nationally, to help all of our nation's veterans access the resources they need. 

Securing much needed support of treatment, enforcement, and prevention for those affected by the heroin and opioid abuse crisis.

Leading the effort against the fatally flawed Iran Nuclear Deal.

Co-authoring a bipartisan resolution (H.Res. 246) that passed the House opposing the anti-Israel and antisemitic Boycott, Divestment, and Sanctions movement.

Working with the Army Corps of Engineers to protect our coastlines, advancing the ambitious Fire Island to Montauk Point project, in addition to several other vital projects on the north and south shores of Long Island.

Co-Chairing the Long Island Sound Caucus and advancing top priorities for the Long Island Sound Program, National Estuary Program and SeaGrant.

Co-chairing, as one of only two Jewish Republicans in Congress, the House Republican Israel Caucus, and serving on the House Foreign Affairs Committee and Financial Services Committee, as well as four House Subcommittees.

Successfully resolving over 17,000 constituent cases in favor of his constituents.
Lee and his wife, Diana, reside in Shirley with their twin fifteen-year old daughters, Mikayla and Arianna.