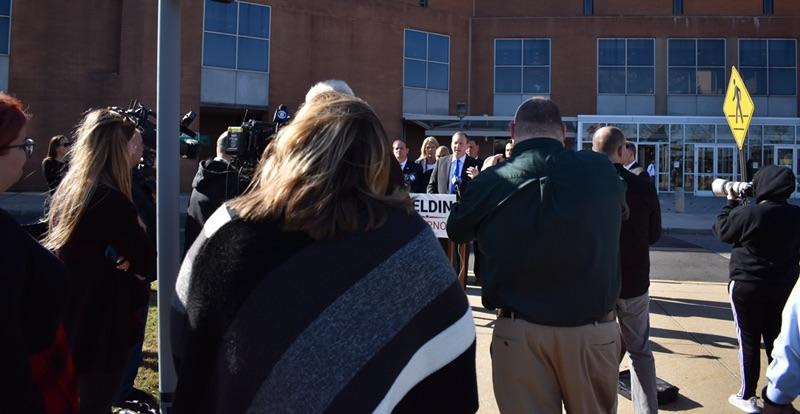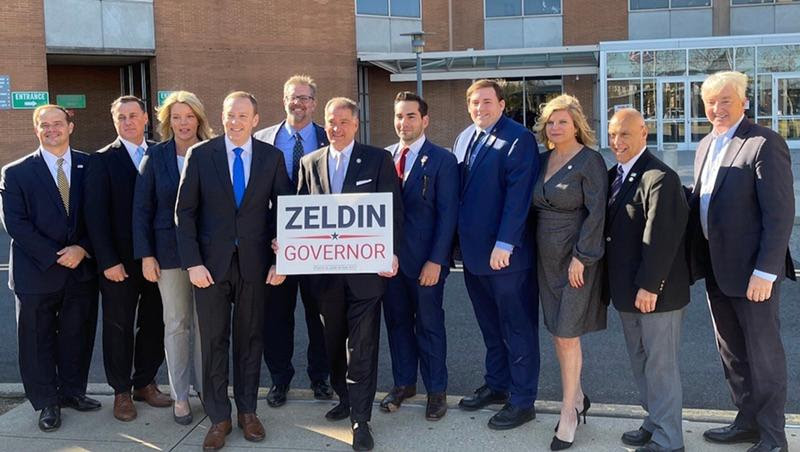 Watch the press conference here.
NEW YORK – On Wednesday, November 10, 2021, Congressman Lee Zeldin (R, NY-1), who has been named the presumptive nominee for Governor of New York by both the New York Republican and Conservative Parties, was joined in Central Islip by Suffolk County District Attorney Elect-Ray Tierney, New York State Senators Phil Boyle (SD-4), Alexis Weik (SD-3), Mario Mattera (SD-2), and Anthony Palumbo (SD-1), New York State Assembly Members Jodi Giglio (AD-2), Doug Smith (AD-5), Jarett Gandolfo (AD-7), Keith Brown (AD-12) and Joe DeStefano (AD-3), and victims' advocates to demand that Governor Kathy Hochul and the New York State Legislature immediately repeal the cashless bail law.
Congressman Zeldin said, "Too many New Yorkers have already witnessed the ramifications of this dangerous law first-hand, and on Election Day 2021 they made it abundantly clear that they have had enough. This fatally flawed law undermines New York's men and women in blue, their morale, their efforts, and, most importantly, their authority. In the courtroom, it rips away judges' judicial discretion, ties their hands and forces them to ignore prior convictions and the risk of repeat offenders. Instead of handcuffing criminals, this misguided law handcuffs justice, and everyday New Yorkers are the ones paying the price."
Madeline Brane said, "My son, Sgt. Hason Correa, US Army Retired Afghanistan War Veteran was brutally and savagely stabbed to death by 4 people he did not know nor had he done any harm. Hason died at the scene from the fatal stab to his heart, he was stabbed all over his body a total of 9 times. 1 of the accused is currently free on a drastic bail reduction because of Bail Reform. She has been free to run and free to kill again for 22 months, no supervision, no ankle bracelet, no monitoring. I am not safe, Hason's 3 children and wife are not safe, you are not safe."
Victor Maldonado said, "Sadly, my beloved son Jonathan was killed and would have still been alive if it were not for this Bail Reform law. Who was Jonathan Flores-Maldonado? Jonathan Flores-Maldonado was an intelligent, caring, young man who, in the early hours of Sunday morning, January 12, 2020, while driving an uber and getting people home safely, was killed because the man who killed him was released on Bail Reform. Jonathan graduated in May of 2019 with a degree in Biology from Buffalo state university. His goal was to work for Doctors Without Borders. On the other hand, the killer is no stranger to the criminal justice system. The Killer had 3 prior DWI's, 6 Felony Convictions, violated parole and probation. Bail reform allowed him to walk right out, released on a Friday night less than 24 hours after my son was dead. Please help me repeal this law."
About Lee Zeldin
Lee Zeldin was born and raised on Long Island. He grew up in Suffolk County and graduated from William Floyd High School in Mastic Beach, where his identical twin daughters attend school today. He earned his bachelor's degree from the State University of New York at Albany and then his law degree from Albany Law School, becoming New York's youngest attorney at the time at the age of 23.
Lee spent four years on Active Duty with the U.S. Army after completing ROTC and served in different capacities, including as a Military Intelligence Officer, Prosecutor, and Military Magistrate. In the summer of 2006, while assigned to the Army's elite 82nd Airborne Division, Lee deployed to Iraq with an infantry battalion of fellow paratroopers in support of Operation Iraqi Freedom.
In 2007, Lee returned to Suffolk County with his family. It was at this time that Lee transitioned from Active Duty to the Army Reserve, where he currently serves with the rank of Lieutenant Colonel.
In 2008, Lee established a successful law practice in Smithtown, NY. Elected to the New York State Senate two years later, in 2010, Lee's been working hard every day since to keep the promises he made to the hard-working families he represents.
In the State Senate, Lee successfully fought to repeal the MTA Payroll Tax for 80 percent of employers, a job killing tax that was hurting small businesses. Lee led the successful efforts to repeal the Saltwater Fishing License Fee and create the PFC Joseph Dwyer Program, a statewide program in New York to help our returning veterans cope with Post Traumatic Stress Disorder (PTSD) and Traumatic Brain Injury (TBI). Lee also wrote the law that protects our fallen veterans and their families from protests at military burials. 
Lee was then elected to the United States Congress in 2014, representing New York's First Congressional District, and quickly became a leading voice in America on top local, domestic and foreign policy issues.
Lee has secured many key victories for Long Island, which have included among many other successes:
Saving Plum Island, by securing the repeal of a 2008 federal law requiring the island to be sold off to the highest bidder. He also secured funding to repair the historic Plum Island Lighthouse and funding necessary to remediate environmental concerns on the island. 
Delivering a $2 billion Electron Ion Collider project to Brookhaven National Lab.
Securing $8.3 billion in much needed funding to support treatment, enforcement, and prevention for those affected by the heroin and opioid abuse crisis.
Working with the Army Corps of Engineers to protect our coastlines, advancing the ambitious $1.5 billion Fire Island to Montauk Point project, in addition to several other vital projects on the north and south shores of Long Island.
Co-Chairing the Long Island Sound Caucus and delivering vast quantities of funding for the Long Island Sound Program, National Estuary Program and SeaGrant.
Introducing and passing into law his Adult Day Health Care legislation for disabled veterans and opening a new health care clinic for East End veterans.
Co-authoring a bipartisan resolution (H.Res. 246) that passed the House opposing the anti-Israel and anti-Semitic Boycott, Divestment, and Sanctions movement.
Successfully resolving over 17,000 constituent cases in favor of NY-1 residents.
One of only two Jewish Republicans in Congress, Lee co-chairs the House Republican Israel Caucus, and serves on the House Foreign Affairs Committee and Financial Services Committee. He also serves on four House Subcommittees.
Lee and his wife, Diana, reside in Shirley with their twin fifteen-year old daughters, Mikayla and Arianna.